Automatic Plants For Heavy Mechanichs and Moulds
Ultrasonic cleaning for motors, turbines and moulds
The incorporation of new high performance PZT ceramics makes it possible to manufacture tanks of a significant size with capacities of 40,000 litres and more.
Heavy objects such as moulds, train axles, aircraft landing gear, marine engines, etc. are immersed in this type of tank.
We specialise in the design and manufacture of ultrasonic cleaning systems for heavy machinery where, in addition to treatment tanks, the systems for loading and moving heavy objects must also be researched.
A significant example is the washing of turbochargers (turbines), which can be in a very poor condition (if disassembled for maintenance after too long). The immersion time in the ultrasonic bath can vary from a minimum of one hour up to even 5 or 6 hours.
LIFTER systems are ideal for this type of problem as they combine the energetic action of ultrasound with special movements during treatment, such as tilting while immersed in the bath.
Special attention is given to oils and grease which float on the surface of the bath; in fact, these could be redeposited on the pieces which have just been washed during the lifting phase.
The system must therefore provide a skimming system to remove floating residue from the surface of the bath.
The ultrasonic action dissolves and breaks up the grime on the surface and interior of the holes.
Before and after results: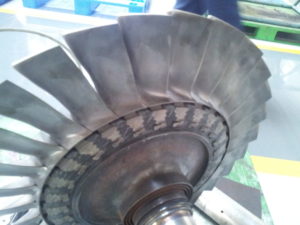 Moulds and dies can weigh up to 1000 kg, and must be cleaned frequently. Their weight means there are already problems when handling them.
The mould is placed on the platform, after which everything is performed automatically.
When the START command is given:
the platform descends
the cover closes
the ultrasonic cleaners are powered ON
an "up and down" (tilting) movement begins, at the end of which
the cover opens
the platform rises again to the loading/unloading position
The ultrasonic cleaning of moulds and dies offers significant advantages compared to other systems (sandblasting and shot peening, high pressure water jets, nitrogen or other):
uniform treatment of edges and surfaces without abrasion
access points which are the most difficult to see and reach
use of normal alkaline detergents versus the use of acids
zero labour
Heavy machinery treatment stages
Pre-wash
Multiple ultrasonic cleaning cycles
Multiple rinses with running mains water
Multiple rinses with demineralised water
Oxidation protection and prevention
Drying
Therefore durable mechanisation is required for moving the baskets from one phase to the next.
We have conveyor systems with an overhead crane (ORTHAGON) to automate baskets of a significant size and weight.
Would you like to learn more?