Moroni Ultrasound has been manufacturing ultrasonic cleaning systems since 1963.
Over more than 50 years, the company has incorporated the leading technology of the day: from rotary and SCR generators, to the IGBT generators used today; from magnetostrictive transducers to the latest PZT elements which use fast sintered lead zirconate-titanate and barium ceramics, with high mechanical strength.
Maximum expertise and experience are therefore guaranteed, which means the system most suitable to a the specific needs of the customer can be quickly identified.
In the simplest situations, just one ultrasonic tank is often sufficient to resolve a problem while other cases may require a treatment cycle which provides several phases, such as:
Warm detergent pre-wash cycle
Ultrasonic cleaning cycle
Running mains water rinse cycle
Treated water (demineralised) rinse cycle
Oxidation protection and prevention
Drying cycle using various systems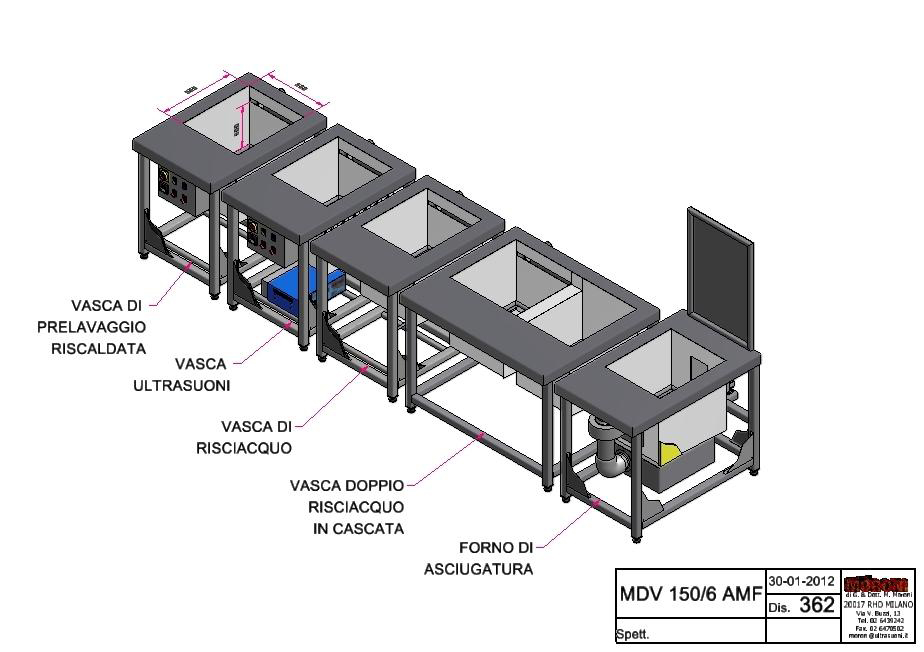 Once the cycle has been determined and after practical simulation tests in our extensive laboratory equipped with every known system, it can then be decided which automation system to incorporate, ranging from the various types of conveyor, with bridge cranes for very heavy baskets, stepper motors,  with agile self-learning robots or conveyors with LIFTER systems.
The final decision is taken only after all possibilities have been ascertained and assessed from the point of view of both results and productivity, ensuring a system which holds no surprises in terms of energy consumption and production costs.
MORONI is name recognised around the world with efficient, updated systems which have been in operation for over thirty years.
All documentation related to spare parts, electrical diagrams and functional diagrams of automation programmes are conserved in our archive.
In recent years, our research has focused on water-based detergent processes, and we are in a position to say that no problem exists that cannot be solved in using this cleaning solution.
Therefore, all treatments based on the use of expensive, dangerous and harmful organic solvents have been eliminated with documentation attesting to the effects on personnel and the environment.