Automatic ultrasonic tanks suitable for cleaning heavy machinery
ORTHAGON systems with overhead crane
Advantages:
Increased loads
High productivity.
Maximum safety.
Minimum labour.
STEPPER MOTOR Systems (S.M.)
Also known as a "step motor" or "stepping motor, the simultaneous lifting and movement of all baskets results in maximum productivity.
The programming cycle is remarkably simple as they continuously repeat from six to a maximum of ten movements.
The pieces to be cleaned are loaded onto a platform which automatically lowers into the ultrasonic cleaning position. At this point, a plunging motion is added to facilitate the discharge of solid residues released from the innermost parts of the pieces by the ultrasonic cleaning process.
These automatic ultrasonic cleaning systems are particularly suitable for cleaning heavy machinery such as motors, moulds and dies, and hydraulic/pneumatic units and cylinders.
Ultrasonic cleaning systems with rotating baskets are designed, not only for maximum precision in cleaning the oils and grease used in the processing of small metal parts of all types, but above all for the removal of SWARF and RESIDUES from machining.
The ULTRASONIC action combined with the SLOW ROTATION of the pieces allows the innermost parts such as threads, blind holes, undercut planes to be cleaned. In addition, the submersed rotation preserves the parts to be cleaned by cushioning any impacts, especially in the most fragile parts such as external threads or delicate contact surfaces.
The platform, which descends and rises with the tumbler, moves up and down (plunging) when in the cleaning position to remove the swarf from the cleaned pieces.
These high technology systems with computerised programming and management are COMPLETELY AUTOMATIC, so the operator needs only to remove and place the tumbler on the loading platform.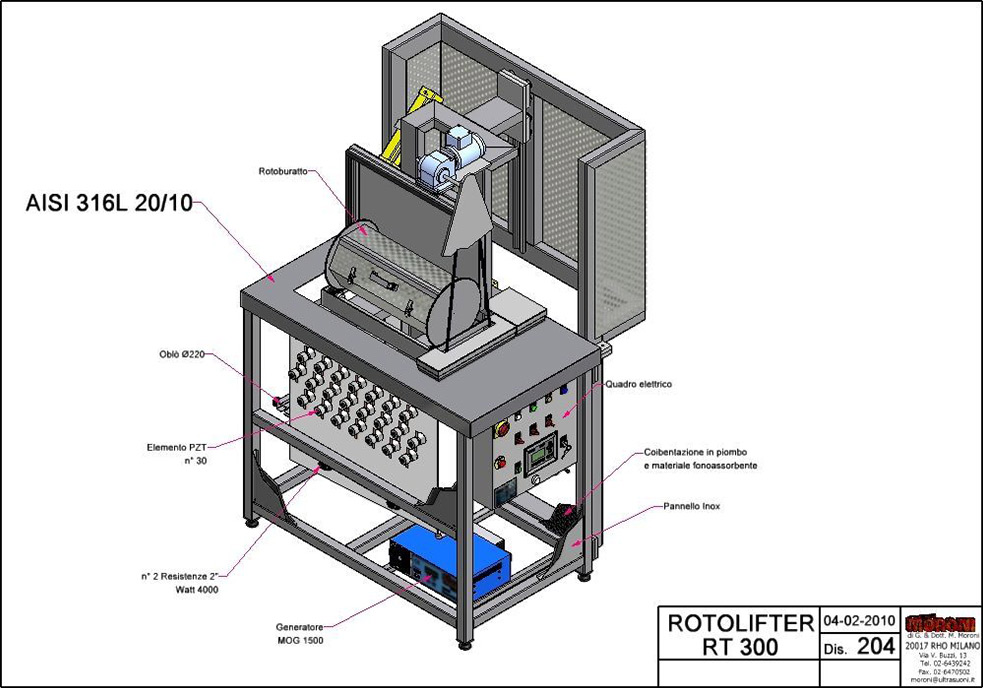 Lastly, numerous other automatic ultrasonic cleaning systems have been manufactured since 1963. We also specialise in the design and manufacture of individual systems, and one of our departments is dedicated solely to this type of request.
Would you like to learn more?